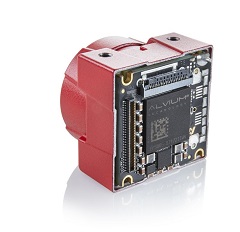 Allied Vision (1D30) will present its new Alvium camera series. With extensive functions for image correction and optimisation, a large selection of current sensors, intelligent energy management, and cost-optimised design, the new camera series combines the advantages of classic machine vision cameras with the advantages of embedded sensor modules. It opens up new ways for users to switch from PC-based image processing applications to embedded systems. Several live demonstrations running on different embedded boards will show cameras of the Alvium series in action.
Allied Vision's new high-speed camera family Bonito Pro, which has a CoaXPress interface and was specially designed for applications with high bandwidth requirements, will also be exhibited. Equipped with four DIN 1.0/2.3 connectors, the cameras can transmit 25Gb/s via the CXP-6 high-speed connections. The new camera will be on display at the booth as part of a PCB inspection application.
Allied Vision will also be previewing the new 50 megapixel camera Prosilica GT10000 with the KAI-50140 large-format CCD sensor from On Semiconductor. The sensor has a resolution of 10,440 × 4,800 pixels. The 2:1 aspect ratio makes the camera particularly suitable for display inspection, aerial photography, and optical metrology.
Lastly, the Mako G-508 POL, equipped with a 5.0 megapixel IMX250MZR/MYR CMOS polarisation sensor from Sony, will be on display.