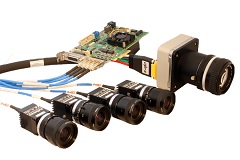 Adimec will demonstrate several new CoaXPress cameras, including a multi-camera solution, the Norite N-5A100.
The Norite N-5A100 is a five megapixel camera based on the Python5000 CMOS image sensor in a 29 x 29 x 43mm format. For developers of vision systems with multiple cameras, such as side-view cameras for 3D solder paste inspection, automated optical inspection and metrology, the N-5A100 offers reduced system complexity at 105fps throughput per camera, not only because of its size and performance, but because of the simplified integration of CoaXPress.
Multiple Norite N-5A100 models can be controlled from one user interface, and up to four cameras connected to one frame grabber. Multi-camera systems using the N-5A100 eliminate the constraints of Camera Link- and USB 3.0-based vision systems, such as frame speed limits, short cabling and EMI/EMC interference. The Norite simplifies machine vision design and increases reliability of vision systems.