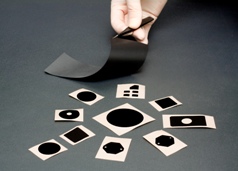 ACM Coatings will be showing its ultra-black foils, which deliver the lowest available reflectance for a broad wavelength range from UV to VIS and IR. The foils are designed for stray light suppression, laser power absorption, or the enhancement of signal-to-noise ratio when uncompromised optical performance is required.
The foils are available with a self-adhesive backing that allows users to attach them to nearly any substrate easily. They are available as standard sheets or in a customised shape.
The foils are ideal for vision and imaging applications for covering measuring chambers, separation of lighting and imaging channels, black image background, and as a calibration target.